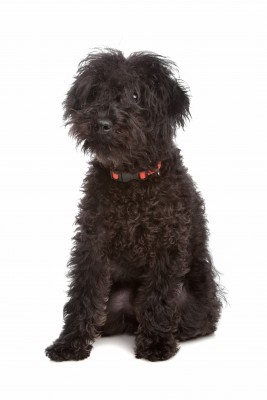 Hypoallergenic dogs
A term that I would guess that gets many daily internet hits by those desperate to own a dog but who have allergies to furry animals.
However the term really needs more clarification, and put simply, a Hypoallergenic dog doesn't exist, a more accurate term is a reduced allergen breed producing a reduced allergic reaction amongst allergy sufferers.
Dog allergens in more detail (Allergens substances that cause the allergic reaction)
Dog allergens can come from a dog's skin (dander- skin flakes), its saliva, or it's urine.
The sticky dander allergens are able to drift about your home, attaching themselves to all surfaces.
Similarly, once dry, urine particles can be expelled into the air: as we all know, dogs like to lick and scratch, further propelling the irritants around those that are susceptible.
Some dog breeds produce less allergens than others, Poodles,Airedales & Schnauzers are just three examples that shed their skin on a 21 day cycle; other breeds can shed every three to four days, German Shepherds, Cocker Spaniels are just two examples of short cycle shedding dogs.
So you can see how some breeds won't have you sneezing & wheezing constantly while others are far more likely to do so.
Long or short haired dogs?
Of course they both have skin so the dander is always going to be present, longer hair can also trap other unwanted irritants such as pollen, dust etc
Therefore regardless if the dog has fur or not or whether the dog has long or short hair and finally whether or not a dog moults cannot always be an indicator of suitability.
Pet allergy testing
So you have found a breed you like and found a breeder that will allow you to spend time with their adult dogs, if possible get the breeder to bring the dog to you as your own home will be a far more controlled environment.
If that isn't possible then perhaps the dog could be brought out to your car, that will be far more telling than in the breeders house where there will most likely be other animals.
In either case ensure you have any medicines ie: inhalers (if used) to hand.
Testing with a puppy is futile; it's the coat change of a dog between 9-15 months that problems usually occur with individuals that are allergic.
However in some cases puppy's can cause reactions, individuals that are severely allergic will react immediately therefore one can reasonably assume that an immediate reaction to a pup renders the individual unsuitable for any dog, but again proper, controlled testing is required.
Occasionally those that suffer from Asthma can build up a resistance and live quite happily with a dog ( of course controlled testing must been done) however the reverse is also true, after xxx amounts of time spent living with the dog the sensitivity to the animal increases, often rehoming the pet is the only and safest option.
Remember, Asthma can easily turn, in a very short space of time, from mild to severe attacks, a condition known as Brittle Asthma.
Your dog makes you sick!
Ok, you have been sold a dog that you have become allergic too, as long as the reaction isn't life threatening (yes it can happen) and rehoming isn't the option for you then there are a few simple steps you can take that may help.
Have your dog groomed as frequently as possible and by someone else.
Keep the dog's fur clipped short to help prevent the trapping of allergens.
Frequently bath your pet, but use a mild dog shampoo to avoid damaging the coat & skin.
Don't allow your dog upstairs; keep that a pet free zone.
Vacuum floors regularly.
Please remember, avoid breeders that claim a dog is suitable for those with allergies. Don't part with xxxx amounts of money because of marketing hype; protect your pocket and more importantly your health.
Of course, with the exception of the hairless breed, just because a dog doesn't visibily moult doesn't mean it is allergy friendly, ALL dogs moult, the list below are dogs that have coats that don't appear to shed ( hence the need for grooming as the moulting hair stays in the coat to form matts ) Rather the list shows low allergen dogs as mentioned at the beginning of the page.
A few examples of reduced allergen producing dogs
Poodle, Bichon Frise, Havenese, Miniature Schnauzer, Kerry Blue Terrier Soft Coated Wheaten Terrier, Maltese, Portugese Water Dog, Italian Greyhound, Basenji, Chinese Crested, Chihuahua and yes sometimes even the Labradoodle (the more poodley variety of course) Contact breed clubs for further advice.
© Dazzledore Labradoodles/Doodle Post 2010