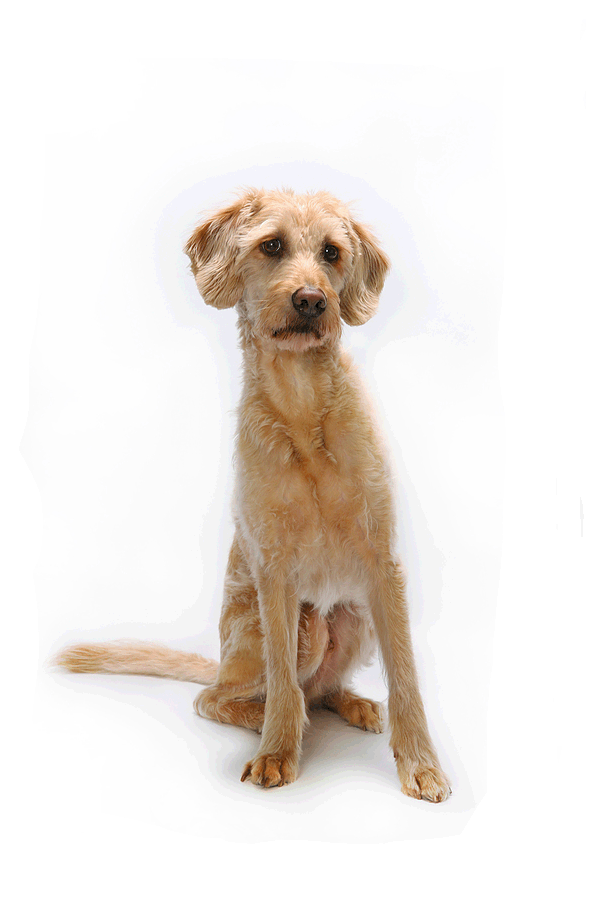 Crossbreed dogs are not always the healthy choice that some say they are.
Hybrid Vigour for example, is said to occur when mixing different species together to produce offspring that are superior health wise to the parent/s.
This may well be true in some cases, however a crossbreed dog can, in fact, also inherit the potential for all the diseases that occur in all the breeds in his/her ancestry. Hip/Elbow dysplasia, epilepsy, allergies, Sebaceous Adenitis, von Willebrand Disease, to list just a few.
Your best approach is to read as much as you can about Labradoodles, find a breeder you can trust, and ask him/her what they are doing to control any problem/s in their chosen breed. Not all inherited disorders can be detected or prevented through testing, but you greatly increase your chances of getting a healthy pet if you insist on seeing the parents' screening test certificates. Ask for evidence of testing where that is possible, and find out as much as you can about relatives of the pup you're considering.
Hip/Elbow Dysplasia – a growing problem ?
Dogs are prone to a number of inherited defects of the skeletal system. The most prevalent of them is Hip Dysplasia ( HD ) a malformation of the hip joint. HD cannot always be detected by watching the dog move ( although movement can play a part in later diagnosis ) so don't be misled by anyone who claims that health testing isn't necessary as, and the usual line is, they look okay.
Not all breeds are prone to Hip/Elbow Dysplasia ( ED ) many are though, and Labradoodles are dogs in which these two diseases are common, so be sure to see certification showing that the parents have well below the score for Labradoodles as recommended by the BVA.
Preferably, the puppy's grandparents and great-grandparents will also be free of HD & ED as well as siblings in each generation and prior offspring, if they have any. It's well worth taking the extra time and effort to find a breeder who does everything possible to produce healthy pups from healthy parents.
The BVA annual eye test is done to ensure there is no evidence of hereditary eye disease in dogs used for breeding. Always ensure the breeder you choose lets you see the original certificate, which is white, and not a photocopy. A photocopy of the stud dog's certificate (unless he is owned by the breeder as well) should also be available.
Also ensure the eye certificate is not out of date.
Below are examples of the original Health Certificates your chosen breeder should be showing you.
BVA Hip cert BVA Elbow cert BVA Eye cert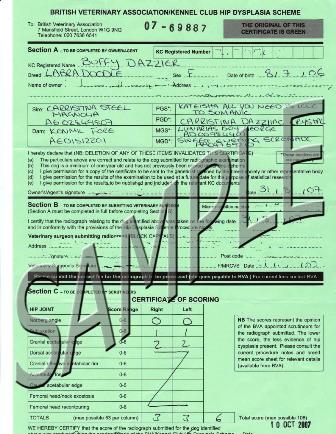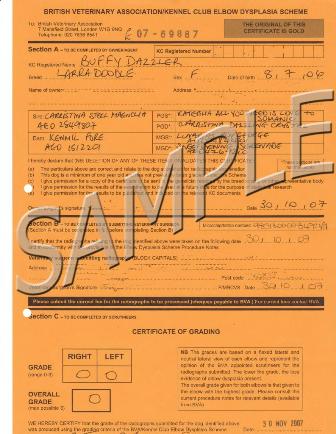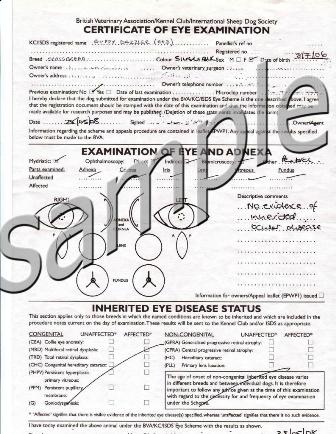 So what are you looking at when shown these test certificates?
When evaluating a BVA hip score ( green form ) it is important to take into account how the score is made up.
As you can see there are two columns one for the left and one for the right hip.
The hips should be more or less symmetrical, as you can see in the example, the hips are perfectly even.
A significant difference in the two hips can either be genetic or the result of trauma. Each hip is scored on 9 different aspects. Scores in the first 3 boxes indicate the conformation of the hip,scores in the remaining 6 indicate secondary changes/arthritis/DJD.
Healthy dogs should have 0's in the last 6 boxes.
When evaluating the elbow form you can see a grade is assigned to each elbow on a scale of 0 to 3 (0 being the best and 3 being the most severe). Only the highest grade of the two elbows is taken as the elbow grade for that dog and only dogs with grades of 0 or 1 should be used for breeding.
"The BVA hip/elbow and annual eye examination are the minimum you should expect your future pups parents to have had.
Breeders on this site may also do extra tests on their breeding stock, brief explanations on these further tests are given below"
Sebaceous Adenitis (SA) is not a common skin disorder, it does however occur more often in certain breeds of dogs, most commonly Standard Poodles and Akitas.
Within this condition the body's sebaceous glands become inflamed and are eventually destroyed. When the sebaceous glands are no longer functioning the dog will exhibit a variety of symptoms which can include: loss of fur, skin thickening, scaley skin, secondary skin infections and an often accompanying musty odour.
Clinically diagnosed dogs with SA should never be used for breeding.
There is a bi-annual test for this condition and it is also advised for Labradoodles of F2 generations and higher, this also applies to backcrosses.
The test consists of 2 small punch biopsies, which is done by the vet.
prcd-PRA is a genetic disorder that causes cells in the retina at the back of the eye to degenerate and die, even though the cells seem to develop normally early in life.

The "rod" cells operate in low light levels and are the first to lose normal function; night blindness results.

The "cone" cells then gradually start to lose their function in full light situations.

Most affected dogs will eventually be blind. Typically, the clinical disease is recognised first in early adolescence or early adulthood.

Although prcd-PRA is inherited, it can be avoided in future generations by DNA testing dogs before breeding.

Identification of dogs that do not carry the disease genes is the key.

von Willebrand's Disease (vWD) is a common inherited bleeding disorder.

In von Willebrand's Disease the dog is missing a factor that helps the platelets form clots. Similar to haemophilia in humans.

Certain breeds have a higher incidence of vWD than others for example: Chesapeake Bay Retrievers, German shorthaired Pointers, Golden Retrievers, Standard Poodles & Scottish Terriers.

There is no cure for von Willebrand's Disease, prevention should be made through eliminating affected dogs from breeding programmes.

DNA tests are available to determine which dogs have this trait.

Other health concerns in Labradoodles.......

There seems to be more reported incidences of autoimmune diseases occurring than ever before in mix breed dogs. Closely related matings aren't always the cause, as can be the case in pedigree dogs, the cause can also be the pairing of two breeds that can both suffer from autoimmune problems.

It could be said that it's the capability we now have of recognising the symptoms and the subsequent increased knowledge and diagnostic tests our Vets have at their disposal that is seeing the increase, but when two breeds are mixed that can each have a higher predisposition more care must be taken.

Put simply an autoimmune disease is where the dog's body starts to attack itself and genetics play a part. Those that are predisposed need a trigger; this can be from the environment, or from an injury, stress, vaccination or from a seemingly minor illness: it could even be the case that the cause is never known, the susceptible individual just succumbs.

No Breeder can guarantee that an affected puppy won't be produced but with careful consideration to the pairings they make they can help to protect dogs and future puppy owners.

Crosses that produce autoimmune diseases or allergies should never be repeated and with any Breeder that you visit, and think you may be likely to buy a pup from, just stop and ask, if it is a repeat mating have they have ever been informed of any health problems from past litters. Likewise, if you already own a dog that suffers from a diagnosed autoimmune problem, inform your Breeder, they will want to know in order to take a step back and take a good look at their breeding programme.

One example of an autoimmune disease is Addisons Disease, click here to read more.