Australian Labradoodles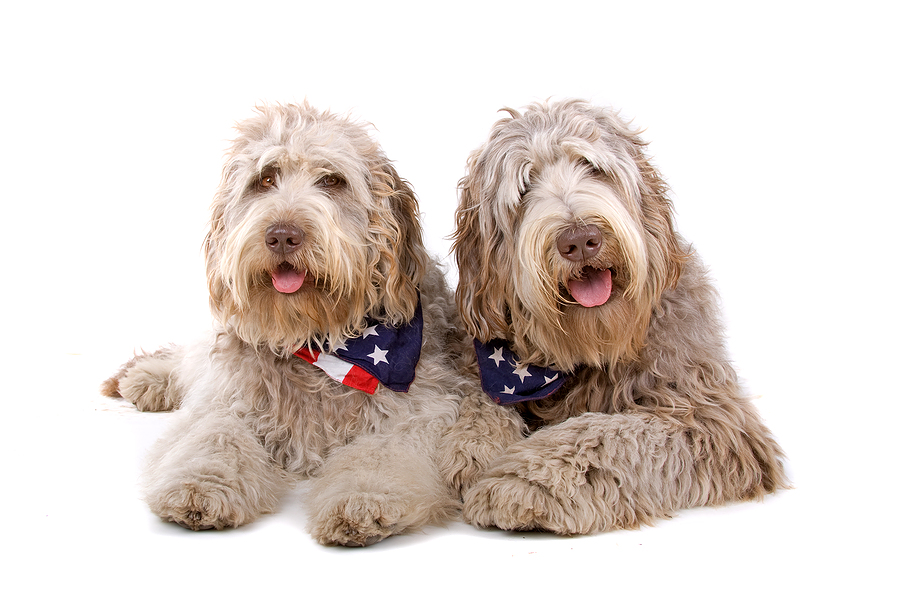 The Labradoodle was originally bred by Wally Conran in his quest to find a guide dog suitable for people with allergies. Wally bred Labradoodle Origins (LO) Labrador Retriever x Poodle, however he discovered that not all of the offspring produced had the required allergy friendly coat that was so desired. Other breeders in Australia including Rutland Manor & Tegan Park continued breeding Labradoodles, determined to produce litters with consistent conformation, coat type, and temperament.
During the 90's, a number of other dog breeds were bred into the Labradoodle lines to assist in this effort. Most often the English Cocker Spaniel, American Cocker Spaniel and Irish Water Spaniel were the breeds used, however, it is reported that a few other dog breeds were also introduced into certain lines. Without DNA evidence of these dog breeds we can not be certain exactly what breeds were introduced. The offspring from these mating's were then named The Australian Multi Generation Labradoodle and later named the ASD ~ Australian Service Dog by Rutland Manor.
The Australian Labradoodle, as with pedigree dogs of the world today, are infused with other breeds and not just a Poodle x Labrador (LO) Labradoodle Origin. This is what makes the Australian Labradoodle more consistent in temperament, size, type and coats, very few pedigree dogs have only two parent breeds. The Australian Labradoodle is bred purely as a family pet, unlike pedigree dogs who are separated into breed groups, Gundog, Hound, Pastoral, Terrier, Toy, Utility and Working. Each breed is bred for a specific purpose, if the Labradoodle ever becomes Kennel Club registered it should come under the breed group Family Companion. The Australian Labradoodle has a joyful temperament, extremely intelligent & intuitive, actively seeking eye contact, gentle & kind, particularly around small children.
The Australian Labradoodle coat must not shed or have any doggy odour, they tend to be allergy friendly to the vast majority of people with dog related allergies, however they should not be promoted as hypo-allergenic as allergies are too complex and the breed is still being developed and contrary to what you may believe even some Australian Labradoodles shed regardless of their generation.
We have some very nice Labradoodle Origins in the UK and some of the Australian Labradoodle breeders are introducing them into their Australian Labradoodle lines and the reputable breeders all carry out extensive health testing prior to breeding. The UK is renowned throughout the world for having exceptional quality Labrador Retrievers, English and American Cocker Spaniels both in the show and working categories. It is well documented that the breeders in the Uk have been carrying out extensive health testing of these breeds for many generations, therefore introducing them into the Australian Labradoodle lines and with careful selective breeding can only be beneficial to the development of the breed The Australian Labradoodle.
The first cross of Australian Labradoodle to a Labradoodle Origin is called a 50/50 Only a percentage of the puppies produced from these mating's will have the desired non shedding attributes of the Australian Labradoodle and a percentage will resemble the Labradoodle Origin, however it is impossible to quantify percentages. Breeders should then select the puppies with the desired attributes of the Australian Labradoodle to breed forward to further develop the breed, it will take time and many generations until they become consistent as a breed.
Courtesy of Debbie Simms-Walker
Cream of British Australian Labradoodles