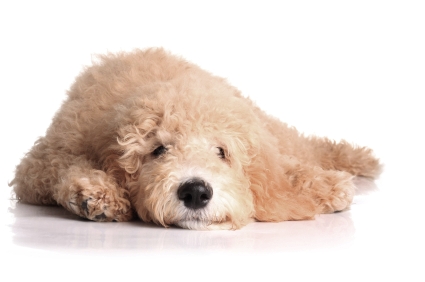 The Right Dog For You?
As with taking on any dog you have to consider whether the breed, or in this case, the cross, is right for you. Labradoodles are very unpredictable in size, ranging from 58-76cms with weights on average of between 19- 42kgs.
If you are a family with very young children a large bouncy dog isn't always the ideal scenario. You only have to look at the Doodles in rescue, not only given up because of allergy problems but also and mainly through no fault of their own, the owners cannot cope with the demands of such a high energy canine companion. Please also do your research into the Poodle and Labrador parent breeds. Both were bred to work and the instincts remain true today, some stronger than others. Your pup will be very likely to inherit the same drives and tendencies.
Miniature Poodles are being used to try and produce the smaller or Miniature Labradoodles and again the sizes here, whilst usually smaller than the standard Doodles, cannot be relied upon.
Of course Labradoodles can and certainly do make fabulous family pets, they are very much people dogs and as such should not be left alone for long periods as they need mental as well as physical stimulation to keep them occupied but they are clever, eager to learn and love to please.
Basic training is recommended, as with all dogs, and as Labradoodles can be very boisterous & eager this is a must.
Careful research for a good breeders of these dogs is essential and this is where the LPF can help you with any questions you may have, likewise the Labradoodle Trust are always willing to give advice.
COAT TYPES
Labradoodle coats vary a great deal, even within single litters you can get many coat types due to the great diversity of the genes. Generally speaking the higher the generation the more Poodley the coat will be but again this cannot be predicted.

On the left you can see the range of coats you may have heard or come across. The top one is a very thick, and harsh wool coat ( F2 Labradoodle, others in her litter were a mixture of scruffy coats and soft wool) Such a coat is dfficult t0 keep, requiring brushing daily.

The 2nd picture shows a soft wool coat of a F3 Labradoodle, easier to keep than the harsh coat but again requires regular grooming. ( The majority in this 3rd generation litter were straight/scruffy coated )

The third picture shows a scruffy/ hair coat, these are the ones most likely to drop hair and in varying degrees.

Usually they are from first generation or F1 litters.

The final type of coat can be seen in the last picture and is very like the coat of a Labrador, smooth and again varies but in general will shed.

Coat Colours

Labradoodle coat colours may be black, chocolate or cream with varying shades thereof.