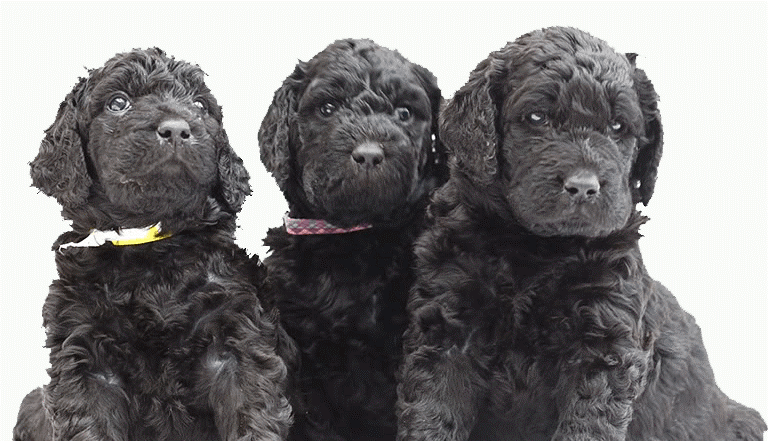 Finding a reputable Labradoodle Breeder
Questions to ask............
How long have you been breeding Labradoodles?
Why do you breed your dogs?
Look for someone who truly breeds to better the breed.
What characteristics do you look for when choosing to breed your dog/s?
Temperament and good health test results must be a joint first on the list. There is no point in having excellent health test results with a nasty temperament!
The good coat etc, etc comes after these!
Where do/does your adult dog/s live?
Check/Ask about their play area, where they sleep and eat, do they look healthy, how do they interact with the family/visitors?
What are the health issues, if any, present in Labradoodles?
A good breeder will be very knowledgeable and should be able to answer this question easily.
What health tests do you do on your adult dogs before you breed them?
Buying a pup from a breeder that health tests, is the best way to promote responsible breeding. Be armed with info from this site as to the health tests required for Labradoodles, so that breeder talk doesn't go over your head.
What health certificates do the parents have?
Ask to see the originals (may just be a copy if Sire isn't on site)
Do your adult dogs engage in any form of extra training? eg: agility, flyball, KC good citizen dog schemes etc….
No right or wrong answer here. A good breeder doesn't always have their dogs jumping through hoops; similarly ask this if it is important to you that there is evidence of further trainability.
If a repeat mating, do you have pictures of pups from previous litters?
Good breeders will have many pictures to show off, a good breeder will be more than happy to show off their past litters. It can also show that owners like to stay in touch. Is it possible to speak to past pup owners?
Are both the Sire and Dam viewable?
The sire may not be owned by the breeder so it's not unusual not to be on site. The mother should definitely be viewable.
Where were the puppies born? Where are they being raised?
The pups' environment is critical. Ask about how they're handled, when they will go to the vet the first time, etc. Watch how the pups interact with their mother (and siblings) and vice versa. You want to see the whole litter together, and with their mum, so do not accept being brought one or two pups at a time. Puppies should appear healthy, bright and forward in their behaviour. Eyes/ears should be clean and free from any discharge. Does the pup have a pot belly? This can be a sign of worm infestation, so be aware!
How do you evaluate the temperaments of the puppies?
By 5-6 weeks you should be able to ask this question. There are various temperament tests available although the best predictor of temperament is history. Again, look to the pup's parents, their parents and so on
Will the puppies have first vaccinations before they leave?
Is this negotiable? Many owners nowadays prefer to leave the 1st vacs until a bit later, what provision does your breeder make for this?
At what age do you let your puppies leave?
No pup should be sold less than 8 weeks of age.
What is contained in your puppy pack?
Below is the minimum you should expect:
Pedigree
A generous supply of the pup's food
Contract
Worming schedule
Toy/Blanket
Photo's
Copies of parent health test certificates
Free 4 week insurance
Written advice on bringing up pup.
Do you provide a contract?
Essentially this is to protect the pup and will outline your responsibility as well as the breeder's.
It is likely to include: spay/neuter agreement, the breeder's promise to take back the puppy should you need to rehome your dog and health guarantee for the pup for a specified time.
……………………..and remember these facts:
All dogs moult, some far more than others, Labradoodles are no different; they can also shed hair in varying degrees.
Labradoodles are not always suitable for those with allergies, any claims that they are, are just wrong!
If you are a first time dog owner or have young children, think carefully before getting a Labradoodle, they can grow to be very large and boisterous. Firm handling and constant training is essential.
Above all, remember Labradoodles are crossbreeds, you never know what you are going to get!
Info courtesy of www.Doodlepost.net April 2010 ©
If you would like more info on anything puppy related on this site then please email us at enquiries@labradoodlepuppyfinder.com
To download this page click here
Permission granted to reproduce this page for personal use only.